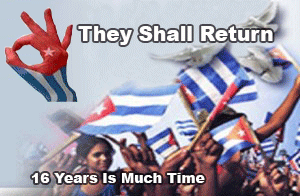 A recent forum held in Lincoln, Nebraska, in which over 100 participants addressed Washington´s wars on Iraq and Syria and environmental issues, had the case of the Cuban anti-terrorist fighters held in US jails at the center of discussions of the Nebraskans For Peace event.
Cuban antiterrorist fighter Fernando Gonzalez was presented in Madrid with the Dolores Ibarruri (La Pasionaria) Commemorative Medal by the Spanish Communist Party.
A meeting of solidarity with the five Cuban antiterrorists unfairly condemned in the United States was held on Friday in this capital in the presence of Miguel Diaz-Canel, member of the Politburo of the Central Committee of the Cuban Communist Party and First Vice-president of the councils of State and Ministers.
How were they treated in U.S. jails,? where can we get information on the case of The Five? and what else can be done to obtain their freedom? were some of the questions answered on Friday by Fernando Gonzalez, Hero of the Republic of Cuba, to young U.S. persons.